RBK Goes Full Band, Sorta: Loops and Things
On October 25 I played a show at Cherrywood Coffeehouse, a delightful spot that features (in addition to great coffee, of course) food, beer and a neighborly, welcoming atmosphere. I'm playing there again on November 15 and already looking forward to it.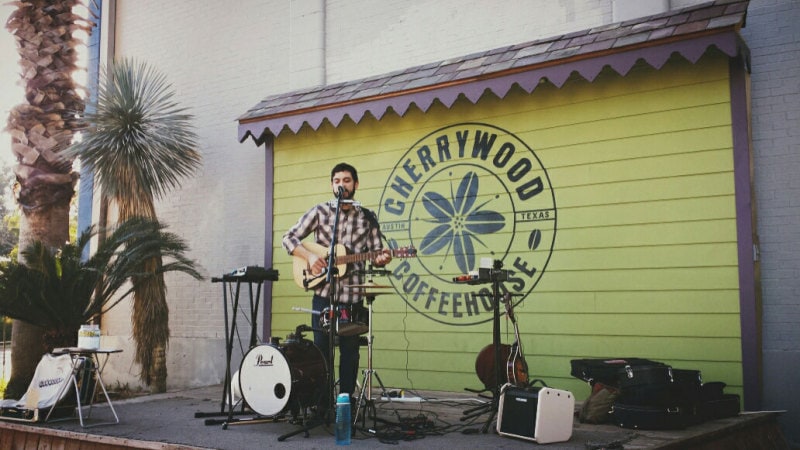 The stage at Cherrywood Coffeehouse is outside on the patio (also dog-friendly; if only my dogs were more social), and though the weather wasn't as fall-like as I would've hoped it was still nice, and got nicer and cooler into the evening.
Although it may have been a little risky for my first show at the venue, I decided to try some new tricks; not magic tricks, sadly, but performing with a loop pedal for the first time. I practiced the heck out of five songs: "lost in the lack of a moment," "the alien," "a good impression," "where our smiles belong," and "more of the world," eager to get the loops right and anxious about doing something that involved so much coordination. I don't get nervous about playing shows, but I do tend to forget my words (part of the rushmore beekeepers charm, right?) and/or goof up a little here and there. So, yeah, the idea of playing with a drum beat and other instruments got me into practice mode. This is also the biggest change to my live set-up in a long time, so I've been feeling the pressure.
Carrie took a couple videos with her phone (one clip and one full song, including a false start and some funny faces), and I think overall the loop experiment was a success. I'm excited to try it with more instruments, more songs and some electric guitar. After all, my Danelectro Hodad is back and ready to rock.
As a solo and mostly acoustic musician I've never been very comfortable with a strictly folk/singer-songwriter label, so I'm excited to bring some of my electric and more developed material back into my live sets. Having to pack, set-up and tear down the equipment for a full band? Well, that's something I'll have to get used to.
P.S.: Those birds you hear are not in the band. The rushmore beekeepers band, anyway.