a rushmore beekeepers christmas!
© Rushmore Beekeepers, released December 16, 2010
Written and recorded 11/29/10 – 12/15/10. Some songs previously released, but that won't hinder your enjoyment of the album.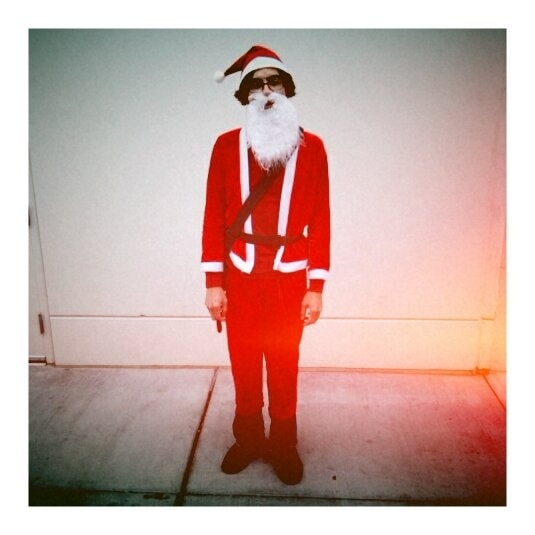 All songs written and recorded by Zach Fountain
Additional vocals on "hot chocolate" by Carrie Hawkins
Additional vocals on "there won't be any zombies this christmas" by Kyla Bella
"christmas time is coming" was a commissioned work, used with permission.
Tracklist
maybe it will snow 2:15 »

lyrics

maybe it will snow, snow on us this year
i know there's not much chance
i can't help but hope, and it's been pretty cold

there's some ice in the backyard and we're wearing our coats
this may be the desert but it's still gettin' cold
i can heat some water and make us a treat
one cup of hot chocolate for you and one for me

maybe it will snow, snow on us this year
i know we don't have plows
it would be nice, even if the city shuts down

maybe it will snow, snow on us this year

christmas time is coming 3:17 »

lyrics

christmas time is coming, you can hear the sleigh bells
and people are finding warmer clothes, scarfs and coats and caps
and lights are shining, different from the streetlights and city lights
and we can see our breath when it's cold enough

Maybe things will change this christmas
we can always hope to have a little snow
maybe things will change this christmas
we can always hope to be a little closer
to the life we're working on

christmas time is coming, we've started listening
to songs we know from years before with bells and jangles and sing-a-longs
we try to plan these days, because we have all spread across the states
wherever we go, we will make our home

christmas time is coming, you can hear the sleigh bells ring ting
people are finding warmer places, and talking to old acquaintances
and lights are shining, different from the streetlights and city lights
and we might see some snow if it's cold enough

there won't be any zombies on christmas 3:14 »

lyrics

you know, there's still time, but i think it's safe to say
there won't be any zombies on christmas
i know we should expect it all the time and be ready any time
but it really looks like there won't be any zombies on christmas
i had a dream last night about the crazies
and it's safe to say they are scarier than zombies
but don't you worry about locking the barn
or teaching your family how to shoot a gun
because i'm pretty sure there won't be any zombies on christmas

of course, next year, who knows, we live on an ever-changing planet full of possibilities
and we can't throw out any possibility, no matter how unlikely
but are you going to unplug the lights in your trees and plants
and stay home the night of thanksgiving instead of camping out
outside your favorite electronics store
if you do that, well, my friends, they have already won
but it really looks like there won't be any zombies on christmas

but just in case, you should probably keep an eye
on your weird cousin or your uncle, or aunt
or your brother who seems just a little more sleepy than usual
but don't shoot 'em till you know for sure
and don't go spoiling Christmas dinner, no
there won't be any zombies on christmas
but if there are you shoot 'em in the head, you shoot 'em in the head
you shoot 'em in the head, you shoot 'em in the head

never see you for christmas 1:19 »

lyrics

merry christmas, i miss you when you're not around
merry christmas, i miss you when you're not around
and i miss you even more as the days go by
and we go on and on and on and on and on and on and on
and i wait and i wait and i wait and i wait
till the day i can tell you with a stuffed teddy bear
or a box of candy, or my favorite book
or a sunny day real estate cd

and another year goes by, i never see you around this time
but i don't mind, there's always next year

a giraffe for christmas 2:14 »

lyrics

well it's christmas eve, you're looking under the tree
for that something special from me
you're trying to be sneaky, but i am sneaky too
and that is how i snuck up on you

but you won't find your present here, and i just have to laugh
because on christmas morning, i'll take you out front
and show you your christmas giraffe

i got you a giraffe for christmas, just like you always wanted
i know what to feed it, we have a place to keep it
so i got you a giraffe for christmas

well it's christmas morn, you're looking pretty sad
i made you breakfast but i still feel bad
i tried to surprise you, but i made you cry
let's go out front, just cover up your eyes

'cause you won't find your present here and i just feel so bad
but it's not a car, and it's not a truck
why, look! it's your christmas giraffe

hot chocolate 3:03 »

lyrics

christmas nights are pretty
they make our homes shine
driving through strangers' neighborhoods
to see their lights
there's nothing i'd rather do than have a
wonderful christmas with you

not quite as cold as we want it
if the snow comes i would love it
wrap up a gift to you from me
and put it under the christmas tree
there's nothing i'd rather do than have a
wonderful christmas with you

up too late and i want to believe
santa will come when i'm asleep
made my list and i've been nice
and i think we've got it right

we drink hot chocolate and look at houses
i couldn't picture this holiday without us
the lights go out when it gets late
until tomorrow i can hardly wait
there's nothing i'd rather do than have a
wonderful christmas with you